Reminder: Link for today = Join Zoom Meeting
I am going to suggest some changes to our fundraising targets based on the maps below, which show plausible minimal combinations of states to win the Electoral College. The first map shows that if we retake Michigan and Pennsylvania but drop Minnesota (thought to be the Clinton state most likely to flip), we win with Arizona and Nebraska CD-02 (remember that Nebraska and Maine split electoral votes by House district).
In the second map, we win Florida. We don't have to win any other hotly contested state, unless you count Pennsylvania.
In the third map, we win North Carolina but not Florida. (I don't think this is particularly likely.) The table underneath shows what we need to add on. Arizona appears in three of the combinations, and NE-02 in one. I'll discuss the implications below the maps.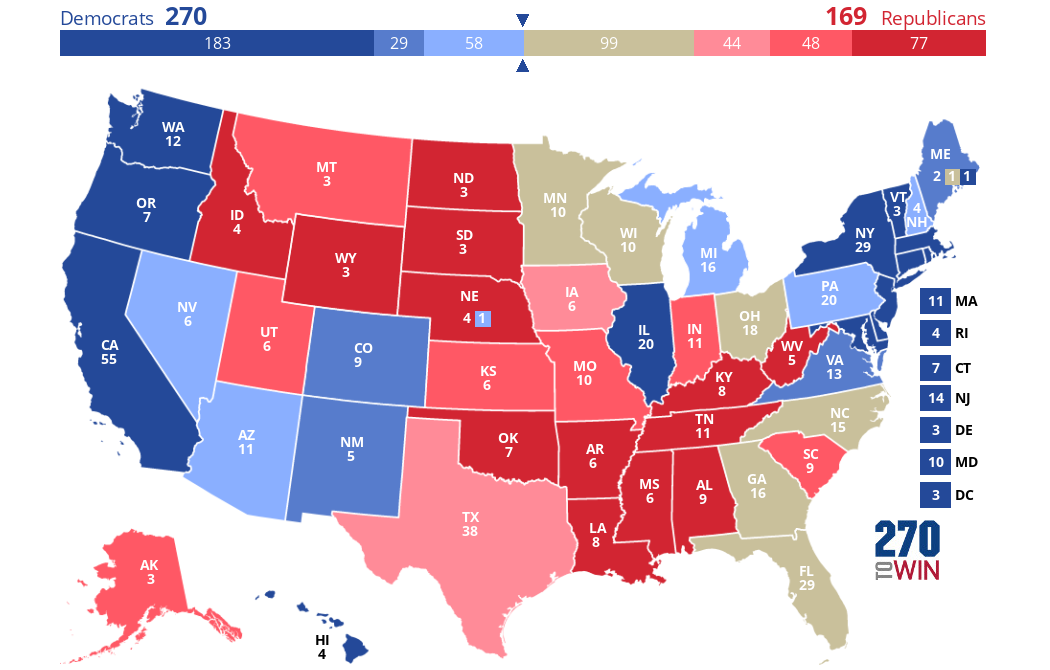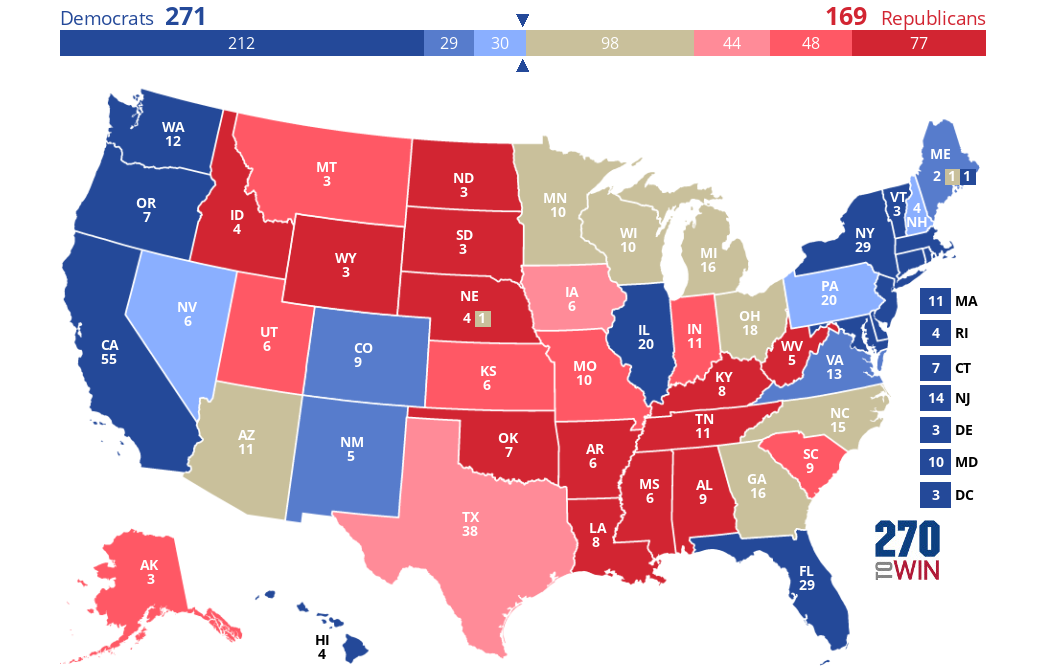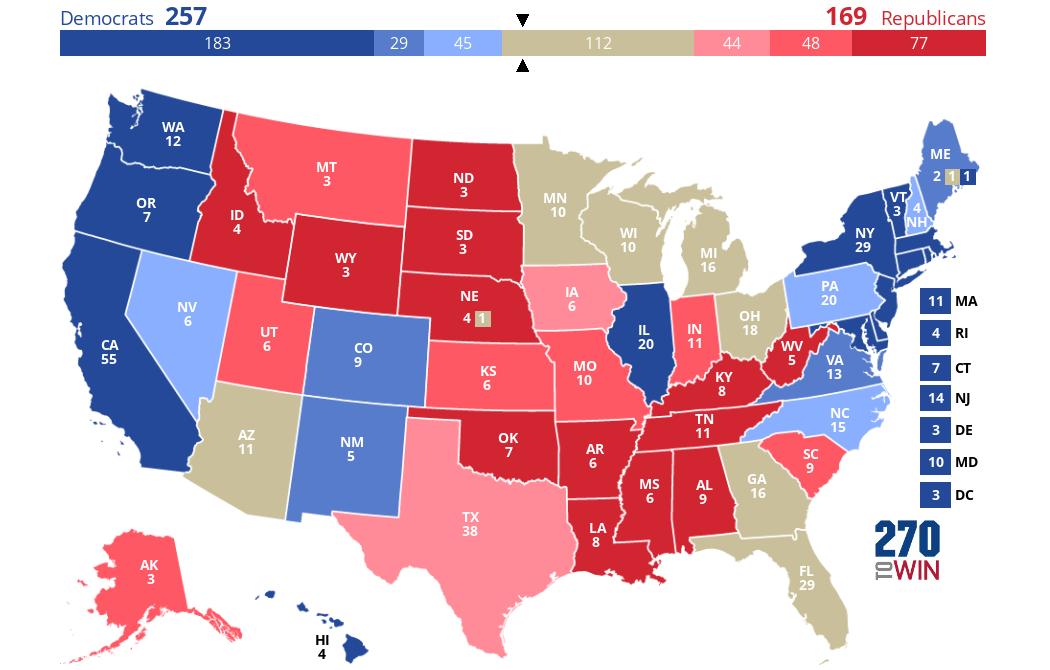 States
FL
286
OH
275
GA
273
MI
273
AZ+MN
278
AZ+WI
278
MN+WI
277
AZ+ME-02+NE-02
270
These are the minimal winning combinations with NC
I think at this point we can drop TJ Cox. He is keeping pace with David Valadao on fundraising and the weaknesses of his campaign are unlikely to be fixed with cash. I also suggest dropping Rita Hart (for whom we have collected several thousand dollars) because Iowa is a bonus on these maps, not a key state.
The only competitive House race in Arizona is Hiral Tiperneni in AZ-06, which is rated Tossup/Lean R. She has far outraised the scandal-plagued incumbent Schweikert. She has $1.2M cash on hand and he has $0.2M and his fundraising seems to have slowed now that he has to do it legally. She needs Democratic voters, not money.
However, we do have Coral Evans running for the Arizona House, so we are already making a contribution.
For North Carolina, we should add Patricia Timmons-Goodson in NC-08 (lean R). Besides helping with money, we need Tar Heels to vote Blue up and down the ballot—we have two state legislators on the list and I believe the districts overlap with NC-08. Timmons-Goodson has not done well with fundraising. Cash on hand $0.6M, incumbent has $1.8M.
In Florida, there are not that many contested races, of which the most important is Debbie Mucarsel-Powell (FL-26), an endangered D incumbent. The seat is rated Lean D, and she has much more money than her opponent. I suggest instead we try Alan Cohn in FL-15 (Lean R). The Republican incumbent had some legal trouble and was defeated in an expensive primary, while Cohn also had a tough primary. For money, both of them are basically starting from zero (a little over $100K each). Cohn has called me a few times, and I can ask whether he has a Get Out the Vote plan to get his and Biden's supporters to the polls, or at least to the mailbox. He lost a race for this seat in 2014, so it isn't his first rodeo.
And finally, NE-02. Last cycle the DCCC was so miffed that their preferred candidate lost to Bernie supporter Kara Eastman in the primary they didn't go hard on the seat. She lost by less than 4 anyway. This time the DCCC came to new wisdom, didn't take sides for the more moderate candidates in the primary, and after she won the primary again put her on the Red to Blue List (ratings are Tossup/Lean R). She also has a J Street endorsement. This district includes Omaha suburbs, just the sort of demographic to sour on Trump. Given that even one electoral vote can matter (see above), I think we should add her, too.